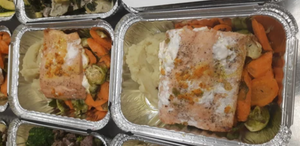 Virtuous Kitchen
KETO MEAL PLAN #3
Regular price
$118.65
$0.00
Unit price
per
Includes 7 Meals:
2. Kung Pao Chicken over Cauliflower Rice. Spicy, salty, and a little sweet. A keto version for classic Chinese takeout! Ingredients: chicken thigh, sea salt, pepper, ginger, sesame seeds, extra virgin olive oil, green bell pepper, cremini mushrooms, butter, peanut butter, rice vinegar, soy sauce, chili paste, garlic, cauliflower. 

3. French Onion Chicken Thighs over Cauliflower Rice with buttered Green Beans. The delicious & savoury classic taste of French onion soup has all the richness and flavour minus the extra carbs for a perfect keto meal. Ingredients: chicken thigh, thyme, mozzarella cheese, organic chicken broth, butter, yellow onion, balsamic vinegar, sea salt, pepper, cauliflower, extra virgin olive oil, green beans. 
5. Garlic Pork Chops with Creamy Mushroom Sauce, Mashed Cauliflower, & Roasted Zucchini. Tender golden pork chops served with a rich creamy mushroom sauce paired with cauliflower mash and lightly roasted zucchini. Ingredients: pork chops, sea salt, pepper, extra virgin olive oil, butter, cremini mushrooms, parsley, thyme, garlic, heavy whipping cream, cauliflower, zucchini. 
6. Turmeric Chicken Curry over Cauliflower Rice. This curry is filing & flavourful and full of the amazing superfood-turmeric! A nourishing & warming dinner. Ingredients: organic virgin coconut oil, cauliflower, sea salt, white onion, ginger, garlic, chicken breast, coconut milk, lime, turmeric, cilantro. 
7. Roasted Cabbage with Kielbasa, Bacon & Thick Zoodles (zucchini). topped with Roasted Sweet Peppers. This meal is sure to please with the yummy bacon bits & perfectly roasted cabbage that draws out a natural sweetness. Ingredients: kielbasa sausage, cabbage, sea salt, pepper, extra virgin olive oil, red wine vinegar, Dijon mustard, zucchini, bacon. 
Macros will be included with your order.

All meals will be frozen and need reheating with a general instruction given however ovens vary. Preheat 350 F. Bake 35-55 minutes stirring/ checking at 20 minutes. Internal temp. of 165F recommended for food safety guidelines. 

---