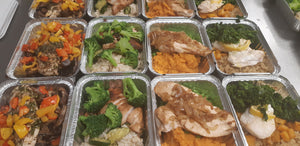 Virtuous Kitchen
KETO MEAL PLAN #4
Regular price
$118.65
$0.00
Unit price
per
Includes 7 meals:
2. Creamy Garlic Tuscan Chicken with Sautéed Spinach, Sun-dried Tomato & Cauliflower Rice. Close your eyes and let this dish take you away on vacation to the great place. The flavours and creaminess will surely delight your taste buds. Ingredients: chicken breast, baby spinach, heavy whipping cream, parmesan cheese, sun-dried tomatoes, garlic, extra virgin olive oil, butter, oregano, sea salt, pepper, cauliflower.
4.  Artichoke Pesto Chicken over Chunky Zoodles. A light yet flavourful meal. Roasted artichoke & pesto drizzled over chicken breast pair delightfully with our chunky zucchini "noodles". You won't even miss the real thing!
5. Fricase de Pollo over Cauliflower Rice.  A hearty chicken dish rich in flavour and delicious! A classic Cuban dish with a healthy makeover. Recipe adopted from The Castaway Kitchen. Ingredients: avocado oil, carrots, celery, onion, garlic, bay leaves, skinless chicken thighs, sea salt, cumin, oregano, chicken broth, green onions, cauliflower, green olives.
6. Ginger Lemon Wild Salmon, Sautéed kale, Roasted Carrots & Brussels Sprouts. Tender & juicy salmon brushed with ginger & lemon and baked with your favourite veggies! Ingredients:  wild salmon, kale, butter, organic virgin olive oil, sea salt, carrots, brussels sprouts, ginger, lemon, garlic powder. 
7.  Mongolian Ground Beef over Cauliflower Rice with Sauteed Rapini. Tons of flavour with a little sweet. Ingredients: Xanthan gum, stevia, ginger, sea salt, garlic, coconut aminos, red pepper flakes, green onions, grass fed beef, cauliflower, rapini. 
Macros will be included with your order.
All meals will be frozen and need reheating with a general instruction given however ovens vary. Preheat 350 F. Bake 35-55 minutes stirring/ checking at 20 minutes. Internal temp. of 165F recommended for food safety guidelines. 
---