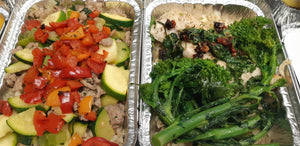 Virtuous Kitchen
Therapeutic MEAL PLAN #2
Regular price
$82.50
$0.00
Unit price
per
Includes 5 meals: 
1. Coconut Lime Chicken over Cauliflower Rice. Thai food that is flavourful, fresh and satisfying! Recipe adopted from Real Simple Good. Ingredients: yellow onion, garlic, ginger, cilantro, lime juice, local chicken, organic coconut oil, full fat organic coconut milk, chicken broth, sea salt, cauliflower, butter. 
2. Swedish Meatballs over Spaghetti Squash with Roasted Carrots. Swedish inspired meatballs with a delicious, creamy, rich taste pairing perfectly with roasted veggies. Ingredients: grass fed beef, spaghetti squash, carrots, extra virgin olive oil, sea salt, beef broth, mustard, organic virgin coconut oil, nutmeg, butter, egg, full fat organic coconut milk, red onion, garlic, dill, parsley. 
3. Turmeric Chicken Curry over Cauliflower Rice. This curry is filing & flavourful and full of the amazing superfood-turmeric! A nourishing & warming dinner. Ingredients: organic virgin coconut oil, cauliflower, sea salt, white onion, ginger, garlic, chicken breast, coconut milk, lime, turmeric, cilantro.
4. "Creamy" Chicken & Rice Casserole. Delicious and creamy and comfort for the soul when your craving a hearty casserole. Ingredients: extra virgin olive oil, cauliflower, celery, garlic, onion, chicken broth, full fat organic coconut milk, broccoli, chicken thighs, sea salt, garlic powder, oregano, basil. 
5. Mongolian Ground Beef over Cauliflower Rice with Sauteed Rapini. Tons of flavour with a little sweet. Ingredients:  ginger, sea salt, garlic, coconut aminos, green onions, grass fed beef, cauliflower, rapini, stevia.
All meals will be frozen and need reheating with a general instruction given however ovens vary. Preheat 350 F. Bake 35-55 minutes stirring/ checking at 20 minutes. Internal temp. of 165F recommended for food safety guidelines. 

---