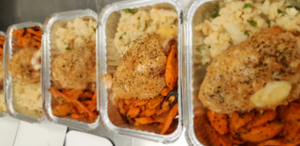 Virtuous Kitchen
Therapeutic MEALS #3
Regular price
$82.50
$0.00
Unit price
per
Includes  meals:
1. Chicken Chow Mein over Spaghetti Squash. Packed full of veggies, protein and healthy fats, this meal is super healthy but will surely satisfy your craving for take out! Ingredients: chicken breast, organic virgin unrefined coconut oil, coconut aminos, sea salt, spaghetti squash, yellow onion, carrots, celery, green cabbage, green onion, ginger powder. 
2. Beef Meatloaf, Buttery Carrots, Cauliflower Mash & Gravy. A savoury taste of home with each bite. Grass fed beef crafted together with fresh herbs, local eggs and hidden veggies! Ingredients: grass fed beef, local eggs, carrots, cauliflower, onion, butter, extra virgin olive oil, organic beef broth, thyme, oregano, basil, garlic, sea salt, organic coconut aminos.
3. Chicken Enchilada with Zucchini over Cauliflower Rice.  Zesty & delicious chicken paired with thick zoodles paired with a custom no night shade sauce for extra flavour. Ingredients: Local chicken, zucchini, cauliflower, extra virgin olive oil, sea salt, cumin, garlic powder, cilantro, celery, beets, yellow onion. 
4. Creamy Garlic Tuscan Chicken with Sautéed Spinach over roasted cabbage. Close your eyes and let this dish take you away on vacation to the great place. The flavours and creaminess will surely delight your taste buds. Ingredients: chicken breast, baby spinach, full fat organic coconut cream, garlic, extra virgin olive oil, butter, oregano, basil, sea salt, roasted cabbage.
5. Apple Rosemary Pork Chop, Mashed Butternut, & Green Beans. You will savour each bite of fresh rosemary & caramelized apple melding together with a tender pork chop. Ingredients: apple, rosemary, pork chop, butternut, green beans, sea salt, extra virgin olive oil, garlic powder, butter.
All meals will be frozen and need reheating with a general instruction given however ovens vary. Preheat 350 F. Bake 35-55 minutes stirring/ checking at 20 minutes. Internal temp. of 165F recommended for food safety guidelines. 

---